International School of Etiquette (ISE) is the international school of social etiquette, protocol and Art of Living in Europe founded by Lady Larisa Evans in efforts to make cross-cultural communication successful and efficient.
ISE provides international training and consultancy in contemporary etiquette, protocol, business etiquette, art of living, social skills, household and event management.
The teaching concept, offers a combination of theoretical and practical studies taking place in Italy, Spain, Russia, France, Monaco and England. Advance programs Include practical cultural tours, travel programs and etiquette workshops that allow students to apply their knowledge in communication with representatives of European high society, providing confident integration of students into the European Aristocratic and Business elite society.
Lady Larisa Evans is the leading trainer of ISE, and holds workshops in different countries.
Some of our Clients: Jaguar, MasterCard, University of Oil and Gas, MSMU University, VISA, Chopard, Piaget, Van Cleef & Arpels, Sonya Rykiel
The International School of Etiquette (ISE) is a joint project of 
Larisa Evans and  Yevgenia Dellos (Maison Dellos).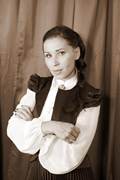 Larisa Evans
Founder and co-owner of the International School of Etiquette and Art de Vivre (International School of Etiquette, ISE) Dame Larissa Evans was educated at Wharton Business School (University of Pennsylvania, USA) and has been trained for the position of coach on etiquette in one of the major English schools on etiquette «The English Manner».

Dame Larissa Evans received British certificate of the polishing program & social skills trainer. Today Dame Larissa is a chief practicing coach of ISE. Dame Larissa lives in Paris, but teaches in different countries. Affiliates ISE are situated in France, Great Britain, Monaco.

In September 2014 Dame Larissa Evans received in Rome the title of Lady of the Order of Saint Maurizio and Saint Lazaro, for the revival of cultural traditions.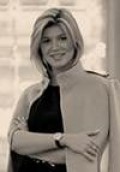 Yevgenia Dellos
Yevgenia Dellos studied in Paris, at the Sorbonne University. Interest to everything new and passion for search for all things that make everyday life beautiful assured her success in the field for development of new creative lines of Maison Dellos Group (jewelry and antique boutiques, "Embassy of Beauty" day spa) and turned her to the creative inspirer of International School of Etiquette.
We are convinced that no one can be a better guide to the world of sophisticate manners and etiquette than a person having a direct relation there to by birth and dedicating her/his whole life to it.
It is our key principle in selecting coaches to work in ISE all over the world. The only requirement imposed on them is to be the best in their area! We would like to proudly introduce our coaches to you.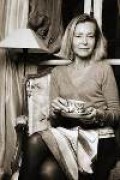 Countess de Tilly
A daughter and granddaughter of French diplomats from an old count family, she gained excellent education in the Higher School of Political Science and up to now has been combining teaching and journalistic professions with active social and family life.

Marie de Tilly is responsible for reception of foreign diplomats' wives in the Elysee Palace. International companies and such world famous brands as CHANEL, Sotheby's and Lancôme are the customers of the Studio of Etiquette and Sophisticate Manners named FRENCH TOUCH founded by Marie de Tilly.